We recognize that all of our patients are unique and deserve to receive dental care that reflects their individual needs. Our experienced and talented dental team is committed to working with you and your family to create a comfortable, stress-free, and rewarding dental experience every time you visit our practice. We are pleased to welcome you and your family, and we look forward to working with you.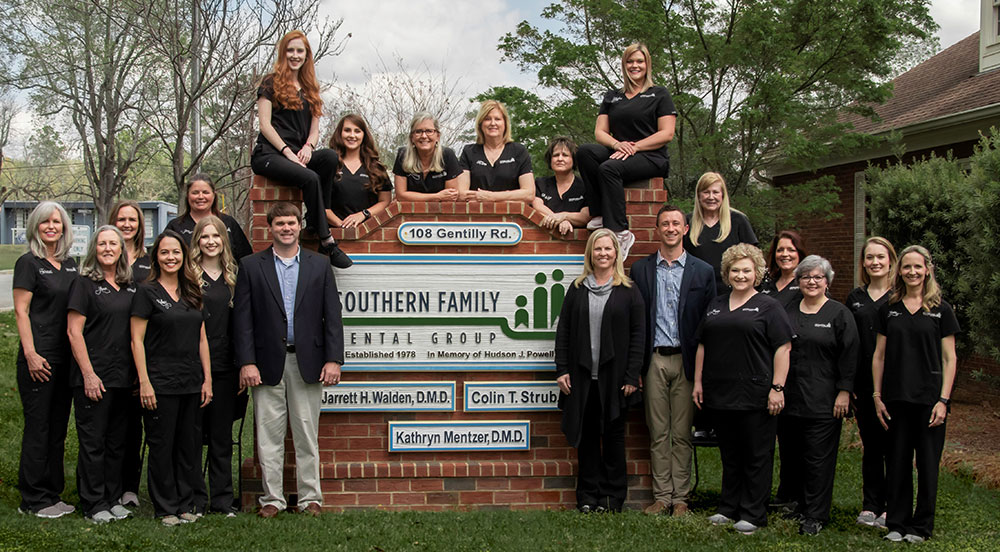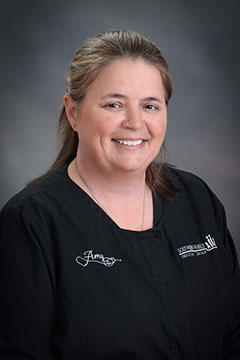 Amy
Dental Hygienist/Front Office
Amy offers gentle and thorough dental hygiene treatment. She also enjoys catching up with her "regular" patients and meeting new people, too. During visits, Amy talks with patients about their oral health, explaining what is happening in their mouth and how they can improve their smile. She most recently joined the Front Office team where she'll greet you by name, assist with scheduling appointments/treatment, and answer questions concerning your account or insurance. Amy has been part of the Southern Family Dental Group team since 2012 and has found her dental home!
Amy lives in Claxton with her husband of more than 20 years, Richard. They have one son, Trey. The family loves lazy days on their farm.
---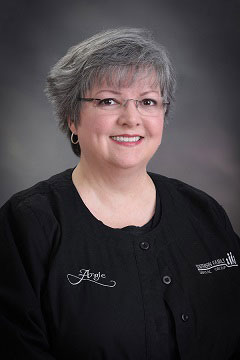 Angie
Front Office
Angie's been working in the dental field since 1984; she joined us in 2005 and we love having her! She enjoys helping people and encouraging them to achieve healthy and beautiful smiles. You'll meet Angie at the front desk, where she'll greet you, update your records, and schedule visits. She also has chairside experience, taking x-rays, impressions, and coordinating surgical dental implants, too.
Angie loves reading, arts and crafts, and restoring furniture. She and her husband, Mark, have one daughter, Heather.
---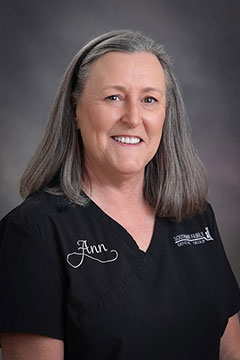 Ann
Dental Hygienist
Ann has been with Southern Family Dental Group for more than 20 years and treasures the friendships she's made with patients. She believes the most important part of her work is building a trusting rapport with each patient, helping them become interested in caring for their smile. Ann works one on one with patients, assessing their oral health, cleaning their teeth, and teaching them how to keep their smile in great shape.
Outside of work, Ann likes hunting and fishing with her spouse, Jerry, and their daughters, Shelby and Brittany. She enjoys Bible Study, gardening, swimming, reading, and traveling. Ann welcomed her first grandchild, Hagan in the summer of 2017. She enjoys keeping her new grandaughter in her free time.
---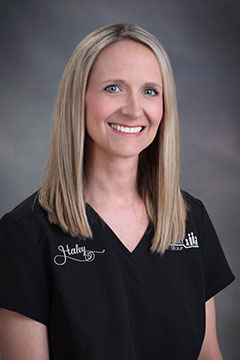 Haley
Office Manager
Haley loves helping others and ensuring that each patient has a positive experience at every visit. She, and the rest of our team, want you to feel like you are part of our family. Haley holds a Bachelors and Masters degree in Business Administration/Management from Georgia Southern University. She keeps our practice running smoothly so the team can focus on you! She is here to help our patients with any problems or questions they may have. Haley joined the practice March 2014.
Haley is originally from Statesboro. She and her husband, Wes, have two daughters, Marylee and Maggie, and three dogs named Ace & Patches & Lady. She loves time with family and friends, being a mommy, outdoors, and reading.
---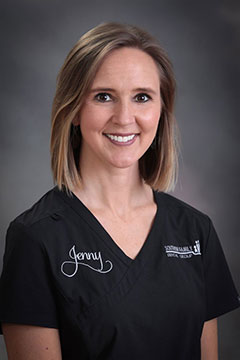 Jenny
Dental Hygienist
Jenny enjoys talking with patients and learning about their families and lives. She loves the bonds that grow as a result of conversations and helping her patients achieve optimal oral health. Jenny will review your overall medical health, address your oral concerns, and take x-rays. While she cleans your teeth, she will teach you about your mouth and how to keep it healthy. Jenny's been in the dental field since 2006 and loves being part of our team.
Jenny and husband, Ryan, are members of Eastern Heights Baptist Church. She enjoys running in marathons, cooking, and time with loved ones.
---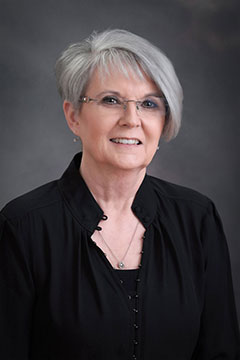 Katherine
Senior Advisor
Katherine has been an integral part of Southern Family Dental Group since 1980. She loves the friendships she's made and enjoys watching our patients' families grow, especially when they bring their children for visits! Katherine has worked as our receptionist, chairside assistant, bookkeeper, and Office Manager. She knows how to keep our practice moving smoothly. This ensures your visits are wonderful and you're smiling when done. Katherine is always available with any concerns or help that our patients may need.
Katherine and her husband, Bobby, live in Statesboro. She has two grown daughters and four grandchildren, including triplets! Katherine and Bobby have a Golden Retriever, Shadow. She loves family time, traveling, and bike riding.
---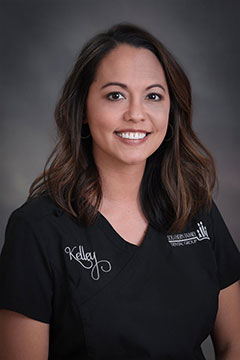 Kelley
Dental Hygienist
Kelley strives to earn her patients' trust. When a patient relaxes during treatment and finishes with a smile, she is thrilled. Kelley says she has the best patients in Bulloch County and we know she is right! Kelley has been with us since 2009, working with patients to improve their oral health and develop smiles they love. Kelley assesses each patient's oral health and teaches patients about good nutrition and dental hygiene.
Kelley and her husband, Ryan, have two young children and two dogs. She enjoys time with family, who are her heart and soul. Kelley loves laughter, time with friends, and entertaining.
---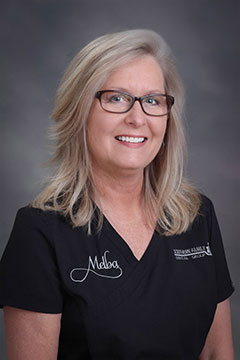 Melba
Dental Assistant
Melba has many years of experience in the dental field, having started in 1987, and her calm manner reassures even the most nervous patient. She's always glad to answer questions, explain processes, and loves catching up on a patient's latest news. Working chairside, Melba assists with procedures. She also takes and pours impressions, sets-up and cleans the treatment rooms, and makes crowns using our Cerec machine. Melba orders our dental supplies, too.
When she's not working, Melba loves spending time with her family, doing anything outdoors, as well as running and working out at the gym. Melba and her husband live in Jenkins county. They have 3 daughters and son- in- laws and 4 grandchildren.
---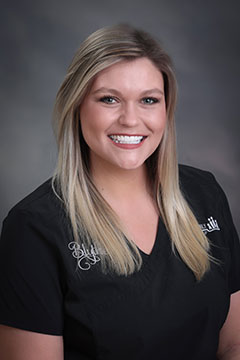 Blythe
Dental Assistant
Blythe was born and raised in Metter! She started dental assisting in 2016 in endodontics and joined our practice at the end of 2018. She loves getting to know her patients and making them feel right at home. One of Blythe's strengths is making patients feel as comfortable as possible, and making their experience the best it can be. She wants you to be proud of your smile!
Blythe has three fluffy dogs named Duke, Audi & Huck. In her free time, she enjoys traveling, spending time with family & friends, and the outdoors.
---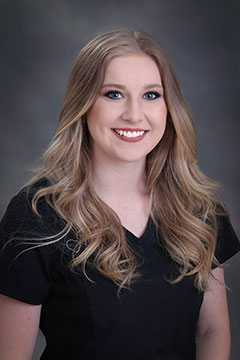 Allyson
Dental Assistant
Allyson is originally from Nebraska and has been in Georgia since the summer of 2014. She will always be a Husker fan! Allyson joined our practice in the summer of 2018. She loves making her patients feel welcome and getting to know them and their family! Her warm, big smile will brighten your day!
Outside of work, she enjoys spending time with family. She has one dog named Winn. She also enjoys spending time enjoying the weather outside, traveling, and watching movies.
---

Courtney
Dental Hygienist
Courtney is a May 2019 graduate of the Dental Hygiene program at Augusta University. She was born and raised in Portal, GA. Courtney joined our practice in the summer of 2019. She loves talking and getting to know her patients and teaching them about their oral health and how best to care for their teeth.
Outside of work she is active in her church, Believer's Church of Statesboro. She loves to read, spend time with her familiy, and playing with her two dogs, Rocky & Abby!
---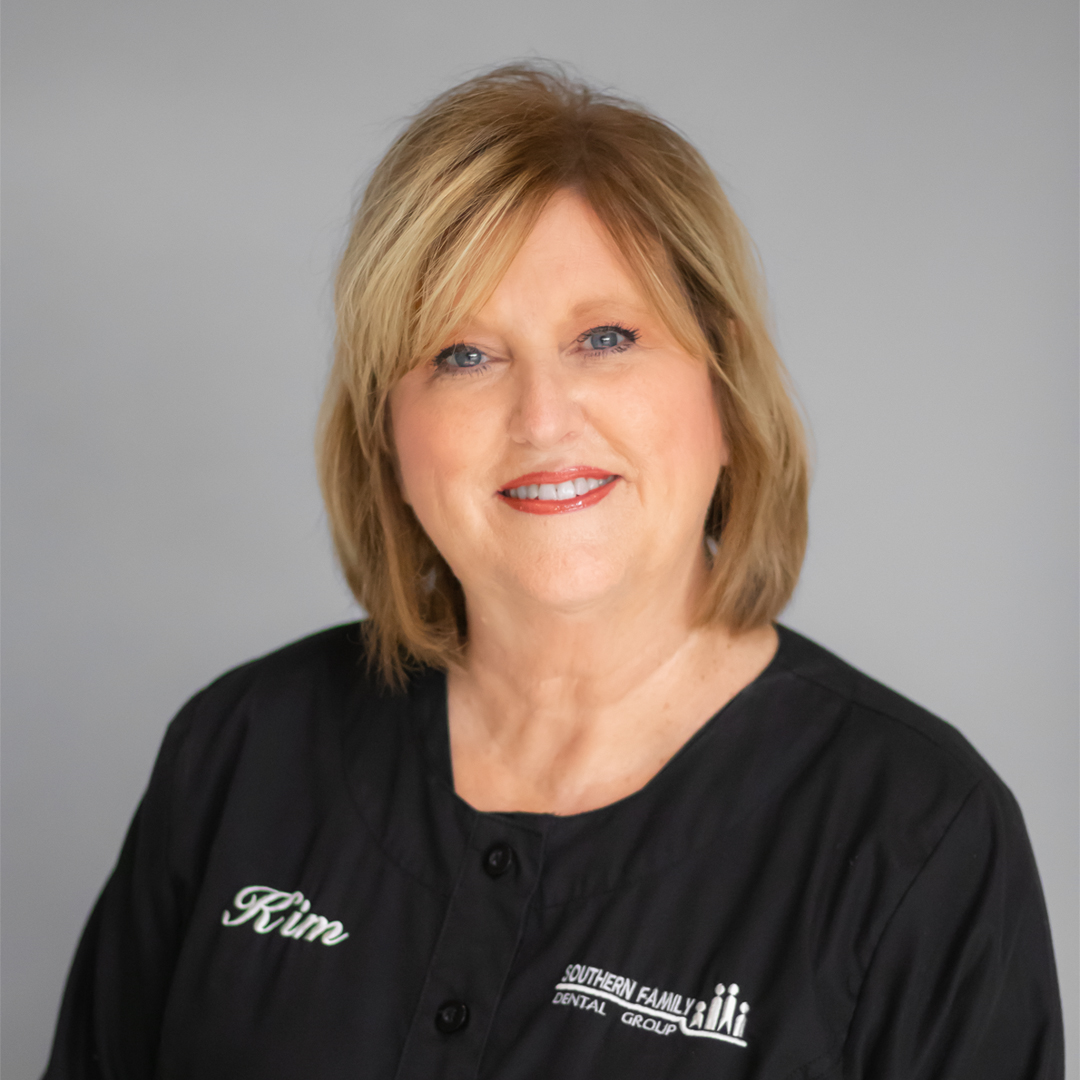 Kim
Dental Hygienist
Kim has been in dental hygiene for over 30 plus years. She is originally from the Port Wentworth/Savannah area. Kim worked with the late Dr. LaSala of Claxton, Georgia for over 34 years. She joined our practice in November 2019. She provides patients with superior care and truly gets to know them personally.
Kim and her husband, Randy, have been married for 34 years, and have two daughters and two grandchildren. She is a member of the Mendes Baptist Church near Glennville, GA. In her spare time, she enjoys visiting the mountains and spending time with her friends and family.
---

Sandy
Dental Assistant
Sandy joined our practice in February 2020. She has worked in the dental field for 31 years. She enjoys getting to know her patients, making them feel at ease, and works hard to provide the best dental experience possible. She looks forward to welcoming you!
Sandy has been married to her husband Brett for 30 years. They have two boys, Cameron & Caleb. They love spending time with their granddaughter, Charlotte, outside of work! Outside of her strong ties with family, she enjoys time outdoors and fishing.
---

Debby
Dental Assistant
Debby joined our practice in February 2020. She has 16 years of dental assisting experience. She was born and raised in Screven County, and still resides there today. She served on the OTC Dental Assisting Board for 9 years, and also taught labs in the dental assisting program as well. Debby truly cares for her patients, and ensures their experience is good from start to finish.
Debby has been married to husband Jarrod for 28 years. They have three grown children, and two grandchildren. Debby enjoys being outdoors and seeking new adventures.
---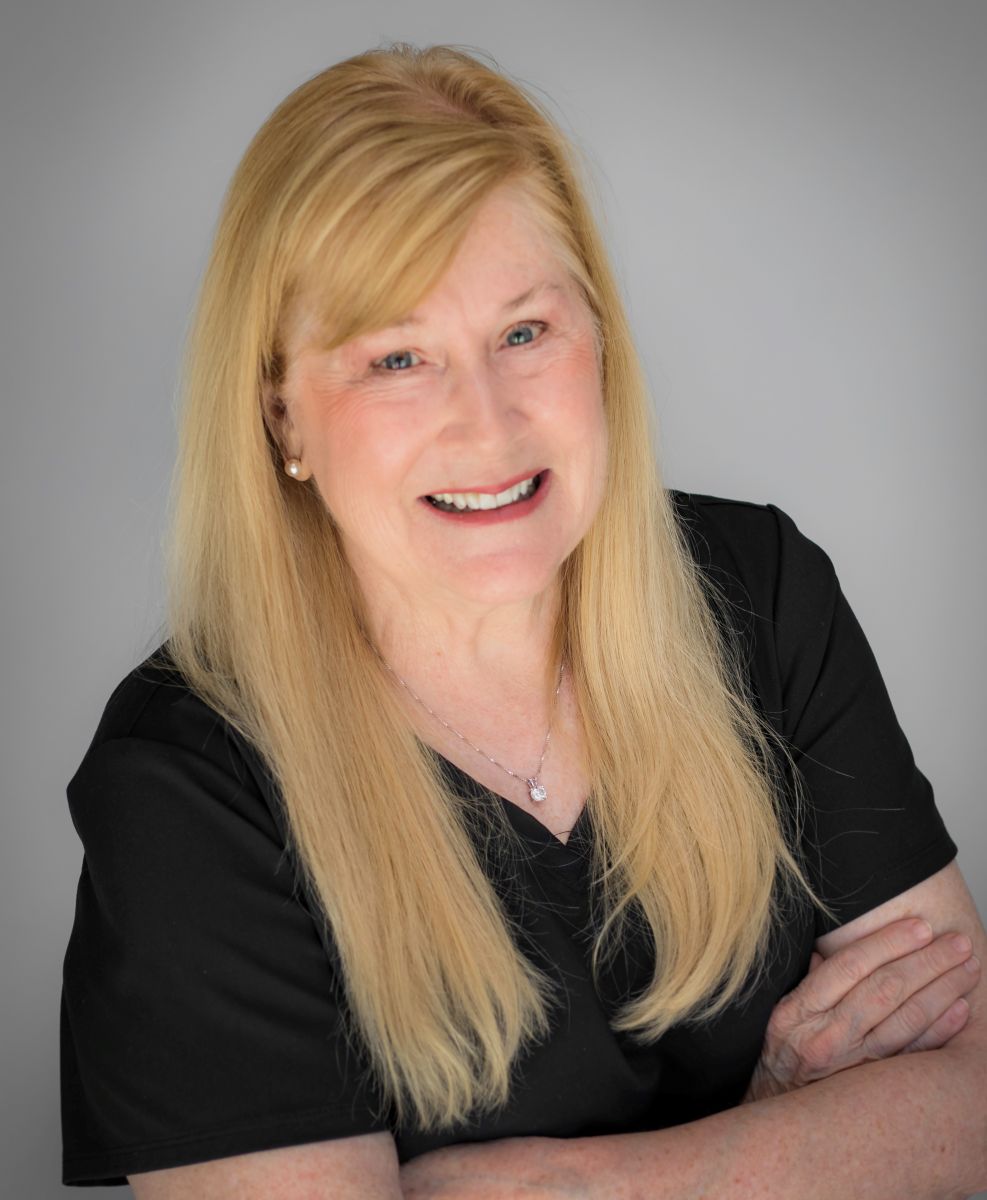 Janice
Dental Hygienist
Janice joined our practice in March 2020. She brings over 46 years experience in dental hygiene. She has been married for four years now to her high school sweetheart! Janice values all of her patients and the relationships made over the years. She loves eduacating on good dental care!
Aside from dentistry, Janice has two sons, Will & Jay Robert, and five grandchildren--three boys and two girls! Her hobbies include cooking, gardening, sewing, and spending time with family. She has one yellow lab named Moonpie. She also loves her church, Register Baptist Church.
---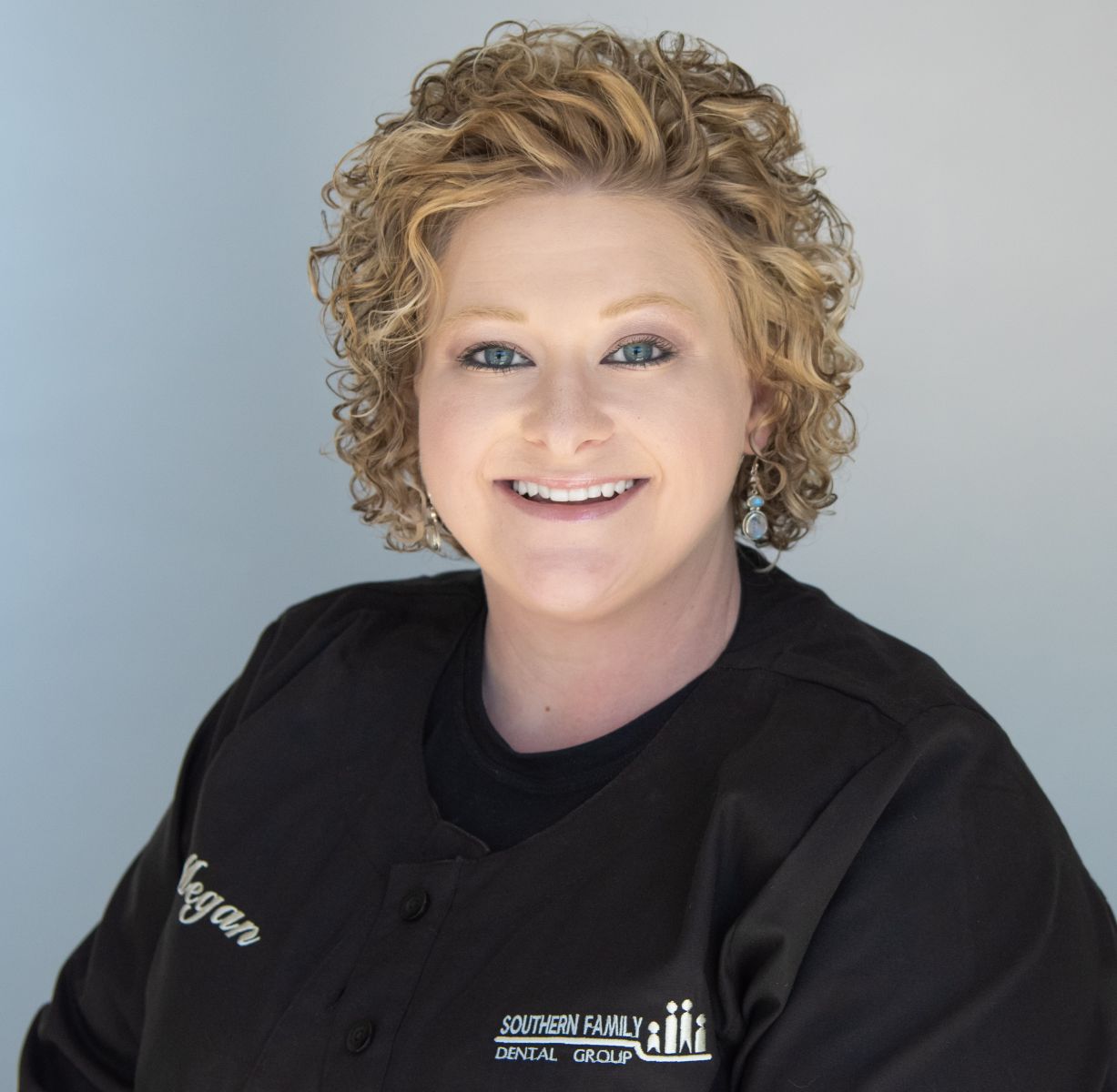 Megan
Dental Assistant
Megan joined our practice in February 2020. She is originally from Metter, GA. She has over 13 years experience in dentistry. Megan loves to get to know her patients and take care of their dental needs from start to finish. Once you have met Megan, you will always remember her bubbly personality.
She and husband Jeremy have been married for 10 years and have a son named Collin. They reside in Stilmore, GA. Aside from working, her hobbies are working in her yard, cooking, going to the beach and river, and tending to animals on their small farm.
---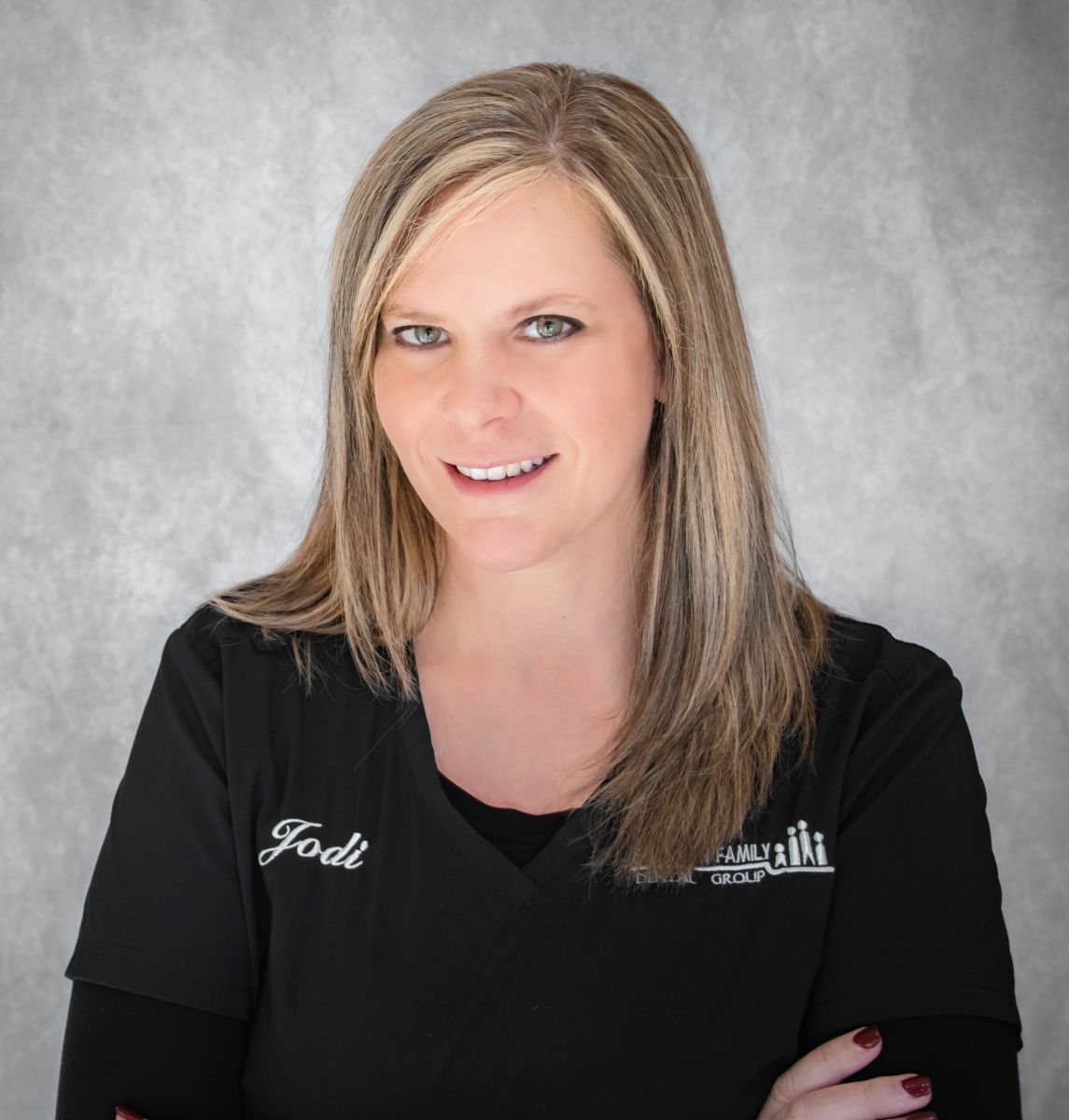 Jodi
Front Office
Jodi joined our front office team in July 2020. She is originally from Statesboro and loves her hometown! Patients love her upbeat personality and she takes a genuine interest in getting to know you. She will help you with insurance information, scheduling appointments, checking-in/out, and answering any account questions you may have.
She and husband, Marcus, got married in 2016. Jodi has two step-daughters, Autumn and Emma. Jodi enjoys traveling, kayaking and cheering on the Georgia Bulldogs!
---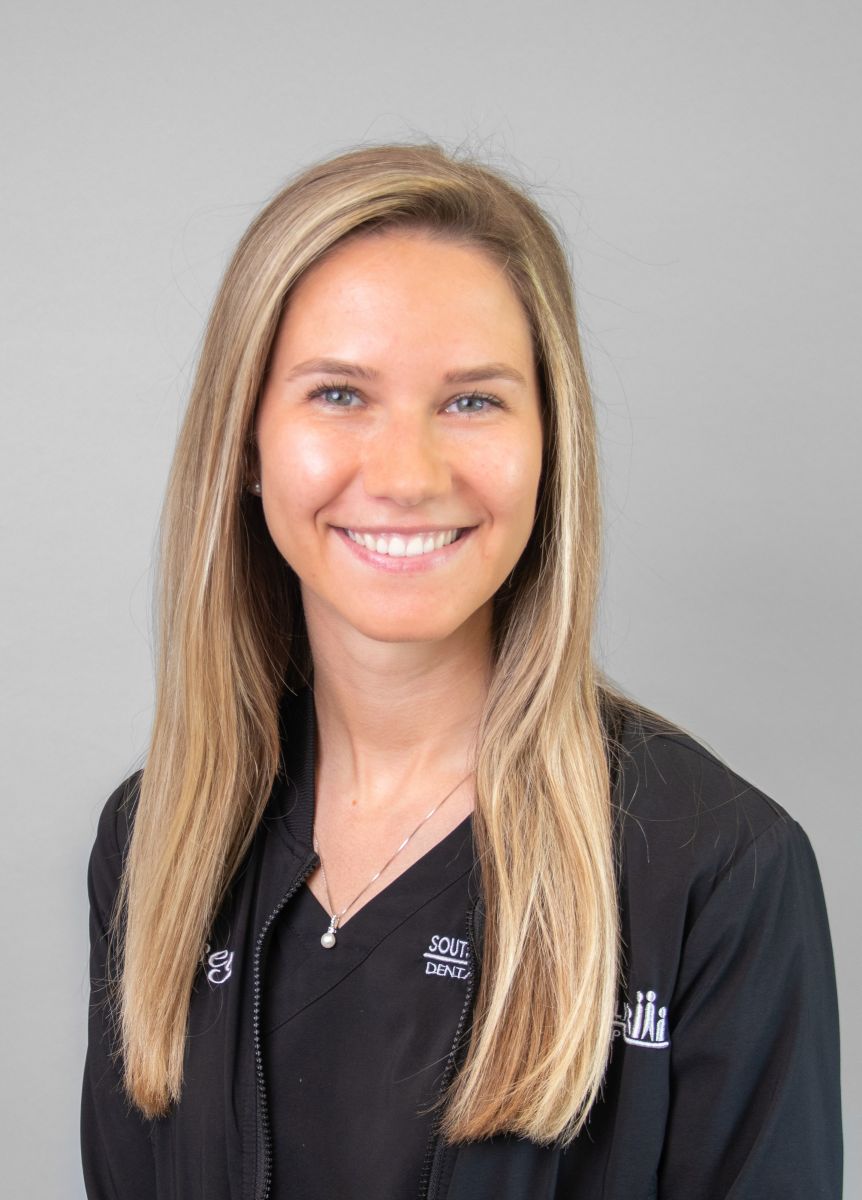 Lindsey
Dental Hygienist
Lindsey joined our office in January 2021. She is originally from Guyton & currently live in that area. She graduated hygiene school from Savannah Technical College. She has been practicing hygiene since 2018. Lindsey loves getting to know her patients and treating them like her family! She is passionate about her job, and truly loves educating everyone!
She and husband, Hunter, have been married since 2019. They have one dog, Knox. In her spare time, Lindsey enjoys reading and being outdoors!
---