We recognize that all of our patients are unique and deserve to receive dental care that reflects their individual needs. Our experienced and talented dental team is committed to working with you and your family to create a comfortable, stress-free, and rewarding dental experience every time you visit our practice. We are pleased to welcome you and your family, and we look forward to working with you.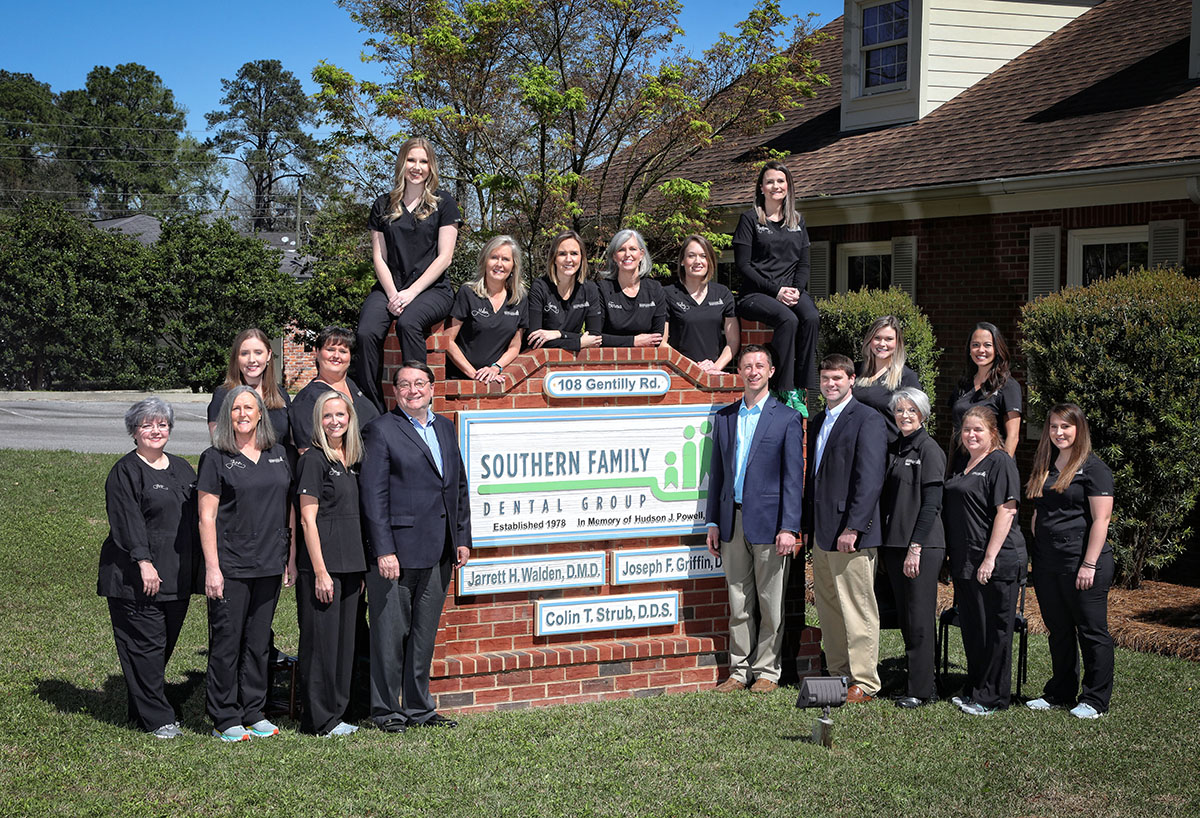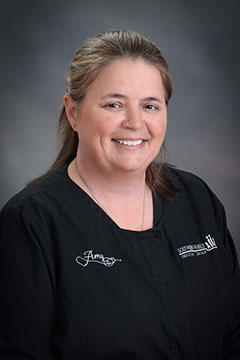 Amy
Dental Hygienist/Front Office
Amy offers gentle and thorough dental hygiene treatment. She also enjoys catching up with her "regular" patients and meeting new people, too. During visits, Amy talks with patients about their oral health, explaining what is happening in their mouth and how they can improve their smile. She most recently joined the Front Office team where she'll greet you by name, assist with scheduling appointments/treatment, and answer questions concerning your account or insurance. Amy has been part of the Southern Family Dental Group team since 2012 and has found her dental home!
Amy lives in Claxton with her husband of more than 20 years, Richard. They have one son, Trey. The family loves lazy days on their farm.
---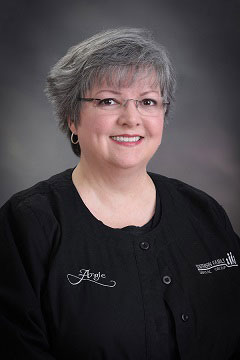 Angie
Front Office
Angie's been working in the dental field since 1984; she joined us in 2005 and we love having her! She enjoys helping people and encouraging them to achieve healthy and beautiful smiles. You'll meet Angie at the front desk, where she'll greet you, update your records, and schedule visits. She also has chairside experience, taking x-rays, impressions, and coordinating surgical dental implants, too.
Angie loves reading, arts and crafts, and restoring furniture. She and her wonderful husband, Mark, have been married for 30 years and have a beautiful daughter, Heather.
---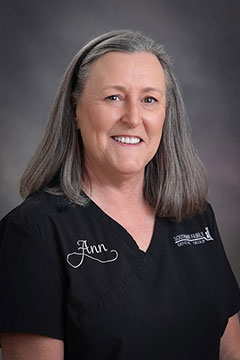 Ann
Dental Hygienist
Ann has been with Southern Family Dental Group for more than 20 years and treasures the friendships she's made with patients. She believes the most important part of her work is building a trusting rapport with each patient, helping them become interested in caring for their smile. Ann works one on one with patients, assessing their oral health, cleaning their teeth, and teaching them how to keep their smile in great shape.
Outside of work, Ann likes hunting and fishing with her spouse, Jerry, and their daughters, Shelby and Brittany. She enjoys Bible Study, gardening, swimming, reading, and traveling. Ann welcomed her first grandchild, Hagan in the summer of 2017. She enjoys keeping her new grandaughter in her free time.
---
Celeste
Front Office
Celeste will greet you by name with her warm smile when you arrive. She helps schedule appointments, checking in and checking out, and insurance verification. A people person, Celeste enjoys meeting new faces and seeing patients develop smiles they love!
Celeste and her husband, Tony, have been married more than 25 years. They have two children, Chase and Tyler, and three grandsons- Briar, Carson, and Landon. The family also has two dogs and a cat. She loves working in her yard. Celeste joined our team in May of 2015.
---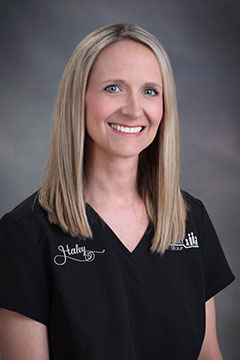 Haley
Office Manager
Haley loves helping others and ensuring that each patient has a positive experience at every visit. She, and the rest of our team, want you to feel like you are part of our family. Haley holds a Bachelors and Masters degree in Business Administration/Management from Georgia Southern University. She keeps our practice running smoothly so the team can focus on you! She is here to help our patients with any problems or questions they may have. Haley joined the practice March 2014.
Haley is originally from Statesboro. She and her husband, Wes, have two daughters, Marylee and Maggie, and two dogs named Ace & Patches. She loves time with family and friends, being a mommy, outdoors, and reading.
---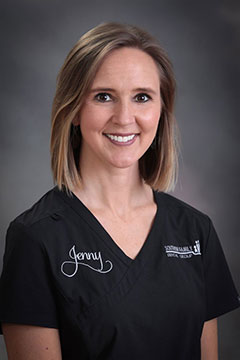 Jenny
Dental Hygienist
Jenny enjoys talking with patients and learning about their families and lives. She loves the bonds that grow as a result of conversations and helping her patients achieve optimal oral health. Jenny will review your overall medical health, address your oral concerns, and take x-rays. While she cleans your teeth, she will teach you about your mouth and how to keep it healthy. Jenny's been in the dental field since 2006 and loves being part of our team.
Jenny and husband, Ryan, are members of Eastern Heights Baptist Church. She enjoys running in marathons, cooking, and time with loved ones.
---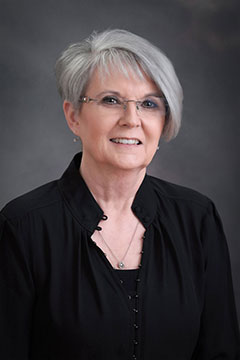 Katherine
Senior Advisor
Katherine has been an integral part of Southern Family Dental Group since 1980. She loves the friendships she's made and enjoys watching our patients' families grow, especially when they bring their children for visits! Katherine has worked as our receptionist, chairside assistant, bookkeeper, and Office Manager. She knows how to keep our practice moving smoothly. This ensures your visits are wonderful and you're smiling when done. Katherine is always available with any concerns or help that our patients may need.
Katherine and her husband, Bobby, live in Statesboro. She has two grown daughters and four grandchildren, including triplets! Katherine and Bobby have a Golden Retriever, Katie, who is a Registered Therapy dog. She loves family time, traveling, and bike riding.
---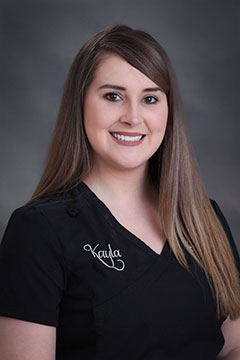 Kayla
Dental Assistant/Front Office
Kayla's warm and friendly ways help our patients relax and feel safe. She loves becoming friends with patients and helping each person achieve the smile they've always wanted. Kayla joined us in 2014 and says she's found the perfect office! Working with you, she will make sure you're comfortable in the chair, prepare you to see the doctor, and explain what will happen. Then she'll sit at your side, assisting the doctor while keeping you updated. You'll also see Kayla in the Front Office greeting you with a smile, helping schedule appointments, and answering any questions you may have.
Kayla's from Sylvania and attended Screven County High School. Kayla welcomed her first child, Aubrey, in March 2018, and that's what she enjoys the most! She also enjoys sports, fishing, outdoors, and is a huge animal lover!
---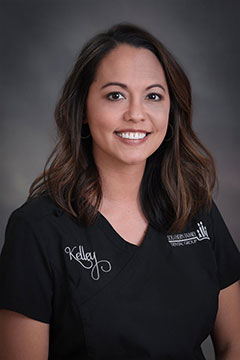 Kelley
Dental Hygienist
Kelley strives to earn her patients' trust. When a patient relaxes during treatment and finishes with a smile, she is thrilled. Kelley says she has the best patients in Bulloch County and we know she is right! Kelley has been with us since 2009, working with patients to improve their oral health and develop smiles they love. Kelley assesses each patient's oral health and teaches patients about good nutrition and dental hygiene.
Kelley and her husband, Ryan, have two young children and two dogs. She enjoys time with family, who are her heart and soul. Kelley loves laughter, time with friends, and entertaining.
---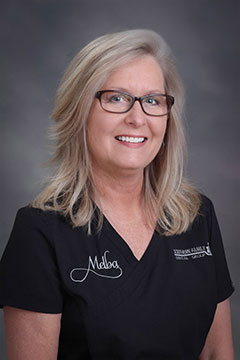 Melba
Dental Assistant
Melba has many years of experience in the dental field, having started in 1987, and her calm manner reassures even the most nervous patient. She's always glad to answer questions, explain processes, and loves catching up on a patient's latest news. Working chairside, Melba assists with procedures. She also takes and pours impressions, sets-up and cleans the treatment rooms, and makes crowns using our Cerec machine. Melba orders our dental supplies, too.
When she's not working, Melba loves spending time with her family, doing anything outdoors, as well as running and working out at the gym. Melba and her husband live in Jenkins county. They have 3 daughters and son- in- laws and 3 grandchildren.
---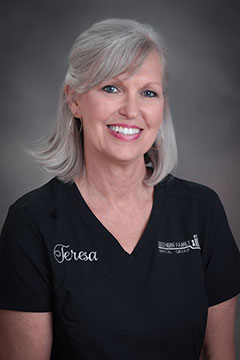 Teresa
Dental Assistant
Teresa loves getting to know our patients and their families. She finds it rewarding to be part of helping people achieve a beautiful, healthy smile and becoming their friend at the same time. Teresa started working in the field in 1989 and joined us in 2015. She's glad to be part of a positive, supportive team. Teresa works hard to make sure every patient has a relaxed and stress-free visit. She offers chairside assistance, helping the doctors and our patients.
Teresa and her husband, Mike, were high school sweethearts and have been married more than 35 years. They have two sons, daughters-in-law, and two grandsons. Teresa loves time with her family, fishing and yard work, and reading silly romance novels.
---
Brittany
Dental Assistant
Brittany has been in the dental field since 2007. Getting to know patients and making them feel at home is something she loves most. Brittany works chairside while assisting the dentist and making sure each patient is comfortable during treatment. She assists the dentist with all phases of their dental treatment.
We are happy to have Brittany as a part of our team since the summer of 2016.
Brittany has two boys who love to be outdoors. When she's not working, Brittany loves going to the beach and going to the movies.
---

Anna
Dental Hygienist
Anna obtained her Bachelor of Science in Dental Hygiene at Augusta University, where she was nominated into the Alpha Eta Allied Health Honors Society. Anna enjoys getting to know her patients, providing oral health education, and helping them feel comfortable during their visits. After graduation, Anna joined our practice in the summer of 2018.
She and her husband live in Vidalia (where she was born and raised), with their two dogs, Mercy and River. Outside of work, Anna enjoys traveling, cooking, being active in her church, and riding horses.
---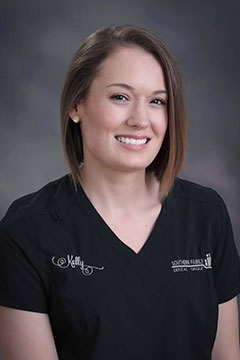 Kelly A
Dental Hygienist
Kelly is a local native, originally from Brooklet! Kelly has over 6 years experience in hygiene. She graduated from Medical College of GA in 2013 and joined our practice in 2017. Kelly enjoys getting to know her patients and their families. Her warm smile will make you feel comfortable and she loves educating her patients on good oral hygiene.
Kelly and her husband, Austin, live in Statesboro. In her free time, she enjoys exercising and the outdoors. They will welcome their first child (a boy!) in November 2019! They have two dogs and one cat.
---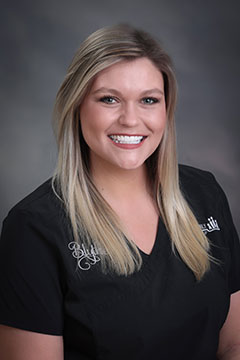 Blythe
Dental Assistant
Blythe was born and raised in Metter! She started dental assisting in 2016 in endodontics and joined our practice at the end of 2018. She loves getting to know her patients and making them feel right at home. One of Blythe's strengths is making patients feel as comfortable as possible, and making their experience the best it can be. She wants you to be proud of your smile!
Blythe has two fluffy dogs named Duke & Audi. In her free time, she enjoys traveling, spending time with family & friends, and the outdoors.
---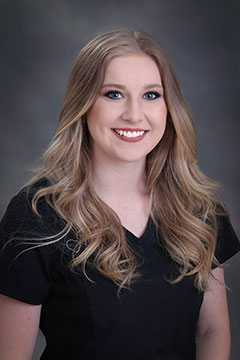 Allyson
Dental Assistant
Allyson is originally from Nebraska and has been in Georgia since the summer of 2014. She will always be a Husker fan! Allyson joined our practice in the summer of 2018. She loves making her patients feel welcome and getting to know them and their family! Her warm, big smile will brighten your day!
Outside of work, she enjoys spending time with family. She also enjoys spending time enjoying the weather outside, traveling, and watching movies.